By Owen Main
Fansmanship.com
Nov. 26, 2012
I've waited almost 24 hours and it still doesn't seem quite real. In the New Pauley Pavilion last night, the Cal Poly Mustangs overcame a 18-point deficit midway through the second half to upset the storied UCLA Bruins, who had the nation's top-ranked recruiting class coming into the game.
An experience as surreal as this isn't remembered in my mind as a clear, linear, easy-to-follow script. Instead, to quote Mozart,
"…the whole, though it be long, stands almost complete and finished in my mind, so that I can survey it, like a fine picture or a beautiful statute, at a glance. Nor do I hear in my imagination the parts successively, but I hear them as it were, … all at once."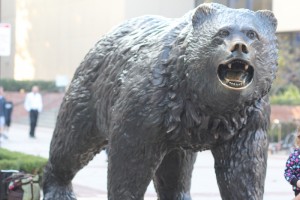 Cal Poly tamed the Bruin on Sunday night. By Owen Main
The series of events that led to the San Luis Obispo smiles in Westwood on Friday night can never be summed up completely without re-watching the game. Here are a few clear snapshots from the night:
Westwood - I grew up a UCLA fan. For the entirety of my middle school years, I wanted to go there so badly. I lived and died in 1995 with Ed and Charles O'Bannon, George Zidek, Tyus Edney, Toby Bailey, and Cameron Dollar. Even J.R. Henderson and Kris Johnson were staples in my consciousness during the mid-90′s.
In high school, other college options looked okay too and, when I got into UCSD instead of UCLA, I went to La Jolla with an I'll take what I can getmentality. There is always something romantic to me though about UCLA, and walking around campus 3 hours before game time was really fun. I saw a camera crew and some blonde doing some kind of music video shoot, a slough of football players heading to the football facility presumable to watch some Stanford film, and a group of Indian students playing cricket in the quad.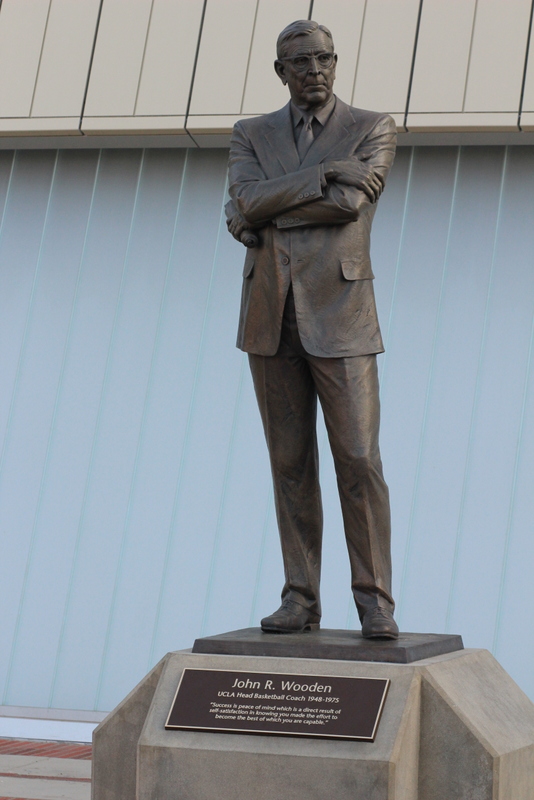 John Wooden's presence permeates the entire UCLA campus. By Owen Main
Outside Pauley. A student asks an usher who UCLA is playing. The conversation goes something like this:
"Who they playin' tonight?"
"Cal Poly. From San Luis Obispo"
"Ooooo," the young man says to his girlfriend. "They gon' get dey ass kicked." The two walk away, with no interest in trying to wait for tickets to see Cal Poly "get dey ass kicked."
Two hours before game time. To say I got into Pauley Pavilion early on this day is an understatement. It was me, the cleaning crew, and a few early ushers. The Zen-like peace of a huge arena that is almost deathly quiet is something I've only enjoyed a few times. It was all I could do to not try to sneak a few free throws on the hallowed Wooden Court.
There was the gold seat. It sits in the second row behind the UCLA bench. It's where John Wooden, the Wizard of Westwood, used to sit and watch the Bruins. Decades after retirement, his presence was and is still felt throughout not just the building, but the entire campus.
Green. There wasn't much of it, but because I mostly go to Cal Poly home games, I always think the green jerseys look really striking and sharp. There was some green in the stands, but not much of it.
Gold. Several UCLA players came out with highlighter-colored shoes. They looked like soccer players who wanted defenders to hate them. The players who wore them looked long, even from high above the southern sideline, it was clear how long and physically gifted every Bruin seemed to be.
"From Los Ojos Osos"… Dylan Royer, senior shooting guard for Cal Poly, is introduced.
5:00 into the game. I remember thinking that Cal Poly was holding their own. For now. Chris Eversley and company were matching shots with UCLA, but how long could it really last?
5:00 left in the first half. "Hmmm," I thought, "Cal Poly is really hanging in there. Coach Callero is probably going to be pleased with this even if the team tanks in the second half."
12:21 left in the game. UCLA goes up by 18. Cal Poly's shooting and rhythm have finally failed them. The reporter next to me said something like, "well, they put up a good game." We start to discuss whether the final difference will be in the teens or 20′s. I guess the 20′s. UCLA is flexing their muscle inside, but they are also making shots, and Cal Poly can't stick with that talent when those guys are knocking down open 3′s.
11:50 left in the game. Something funny happens. I must have thought it was funny, because I laughed. Down by 18 points, Cal Poly senior Chris O'Brien got a steal. UCLA didn't really hustle back as a team and freshman center Brian Bennett got an open fast-break dunk to cut the lead to 16. I laughed out loud.
The 6'9" Bennett, who was surely tired, looked like he barely got the ball over the rim to throw it down. I honestly had the thought, "that's cool that he got a dunk in this one. He'll remember that, even if they continue to get blown out."
Dylan Royer came out of the timeout and made a 3-pointer, cutting the lead to 13 points.
7:47 left in the half. Cal Poly starts their onslaught. Royer and Kyle Odister knock down back-to-back 3′s, trimming the UCLA lead to 8 points with 7:08 to play. The tension really starts to build in the building. UCLA players start to get nervous, offense ceases to be run effectively for the young home team, and Cal Poly can't seem to miss.
Bennett for 2. Odister with a lay-up. Eversley powers one home. I turn to the reporter next to me. "Is this really happening right now?" My question is drowned-out by the groans of the UCLA faithful.
3:23 to play. Dylan Royer's final points of the game tie it up at 63. The former walk-on from Los Osos buries his fourth of the second half en-route to a career-high six 3-pointers and 18 points. Yes, UCLA is melting down, but can Cal Poly close them out? The answer, as you know is yes. Sure, there was some help from Norman Powell, who committed an unnecessary foul to send Odister to the free throw line for the game-winning shots, but Cal Poly clawed and clawed and fought to give themselves a chance.
And UCLA just didn't have the gumption, experience, or maturity to stop it from happening.
Walking downstairs. As I waded through the crowd, down toward the floor, it was not a pretty picture. For a USC fan, it must have sounded like beautiful music. UCLA fans filing out, frowns on their faces, trying to make sense of what they just saw.
"I don't even know if they have an offense," one fan said.
"What the hell is Ben Howland doing?"
"How does this happen?"
For a guy who loved UCLA growing-up, it was a pretty odd experience.
For the Cal Poly faithful it was, simply, the greatest win in program history.
ABOUT THE AUTHOR: Owen Main writes for Fansmanship.com. Follow him on Twitter @owenmain.